Cooking
Tamarack Wilderness Stove
Constructed from 0.5mm titanium, the Tamarack Wilderness Stove ensures you will not run out of fuel for cooking and boiling water on extended trips. Based on old wood gas technology, the stove is designed not only to burn the fuel, but to secondary burn the gas produced from that burn making the stove as twice as efficient.
Small kindling and sticks along with compressed wood pellets can be used as fuel with titanium, aluminium and stainless steel pots working well, but steer away from non stick versions. Add in a Trangia burner using the pot stand section of the stove and you have a very versatile piece of equipment.
The stovefits in a 1400 Snowpeak Titanium pot, the GSI Duallist Stainless Steel pot and a 14cm Zebra Stainless Steel pot.
Specification:
Weight: 263g
Packed height: 114mm
Diameter: 123mm
Extended height: 175mm
Height of pot stand: 63mm
"Mike says "
It took some development to get the Tamarack Wilderness Stove to production, but I am very happy with the time and effort put in by the team to get to the end result. The Wilderness Stove has been extensively used and tested on trips and long burns of 6-8 hours at a time were the norm. Being a big fan of Trangia it was crucial that the Wilderness Stove could be used with a Trangia burner, coupled with being able to use kindling and sticks readily available - this meant I could keep the weight of my pack down by carrying less meths for the Trangia burner and ensuring I would not run out of fuel on extended trips.
I can even produce charcoal with the Wilderness Stove to give me efficient, lightweight fuel if I am heading into mountainous areas. Great piece of kit with a real camp feel.


Trangia

The Trangia 25-5 is for 3-4 persons, contains a 1.75 and 1.5 litre pot, a frying pan, spirit burner, windshield/stand and handle. All pots and frying pan in this set are non-stick
Mini Trangia


This Mini Trangia has a 0.8 litre pot, non-stick frying pan, spirit burner, windshield and handle


The Trangia fuel bottles come in 0.3, 0.5 and 1 litre versions, with safety valve.

The multi disc is a chopping board, collander and prevents the frying pan from being scratched.

" Mike says "

I just can't fault Trangia. I have used them all over the world and they have never let me down. For lightweight trips I take the Mini Trangia, stored inside a billy can. For longer trips or in a fixed camp I take the 25-5 even if I am on my own. The reason for this is the 25-5 pots are big enough to make two meals at once, so the next day I can re-heat a stew for example and have a quick lunch. Always carry meths in the Trangia bottle - I have seen and heard of some nasty accidents, one fatal, of people carrying meths in flimsy plastic bottles. Always ensure the burner is out and thoroughly cooled down before re-filling, and carry a spare O ring. The non-stick versions are worth their weight in gold


Trangia Triangle
Lightweight spirit burner holder and pot stand

" Mike says "

A new piece of kit from Trangia. I am a lover of all things Trangia and this flat, packable stainless steel burner holder and pot stand is great. I use it for those lightweight days out in the mountains or for a quick bivvy over-nighter. Little tricky to assemble at first but with some practice it is ready to go in seconds. Great no-nonsense piece of kit.


---



GSI Hallulite Minimilist

Ultimate ultralight design integrates everything you need for hot meals and warm drinks in an impossibly small footprint. Convenient silicone pot gripper attaches magnetically to fuel canister while cooking
so it is always at hand. Unique 0.6 ltr pot and lid to boil water for pouch meals before transforming into an insulated mug by simply inverting the lid and slipping the pot into its included sleeve. Insulating sleeve keeps drinks warm and helps to reduce soot and char on your clothes.

1 Person

Weight: 6.3 oz

Dimensions: 4.2" x 4.2" x 4.6"

Material: Proprietary, Hard Anodized Alloy

Product Use: Ultralight Backpacking

Includes: 0.6 ltr Pot/Mug, Sip-It Lid, Insulated Sleeve, Silicone Gripper, Telescoping Foon

"Mike says "

I was looking for a no-nonsense cooking set for a future trip in the mountains. Something that was small, could double up as a mug, lightweight and packable. I cast my eye over the GSI range and came across the Hallulite Minimilist. I have since spent a number of nights out with the pot, which I use with the incredible Optimus Crux Stove, and I am over the moon with it.

It takes a boil in the bag meal with added rice, keeps drinks hot for around 45 minutes in freezing conditions, cleans really easily and fits my rig without knowing it is there. With the lid in place and the neoprene sleeve fitted I have found that I don't need to bring water to the boil for a hot drink, so saving fuel.

It works well with gas and meths stoves and around the base of a fire without the lid fitted, and it fits the Tamarack Wilderness stove also. A really brilliant no-messing-about pot, but ditch the folding spoon.


---

Optimus Crux Stove


Thanks to an innovative folding burner head and the convenient strap-on protective stuffbag, Optimus Crux packs down to nothing and stores in the empty base of your LP-gas canister.


A technical wonder designed for weight chasers who refuse to compromise cooking performance.


Enjoy every meal!


Average boil time for 1 ltr of water:
~ 3 min/1ltr water, depending on climate, altitude etc.


Average burn time: up to 90 mins at maximum output (230 g canister)


Dimensions(cm): 8.4 x 5.7 x 3.1


Dimensions(in): 3.3 x 2.2 x 1.2


Fuel type: Butane/propane gas canister (not included)


Kit includes: Burner with valve and stuff bag


Output (BTU): 10200


Output (W): 3000


Technology: Gas


Weight (grams): 83


Weight (oz): 2.92


"Mike says "


At the time I was looking for a no-nonsense cooking pot, which I found in the GSI Hallulite Minimilist, I also had my eye out for a powerful lightweight gas stove that would fit inside the pot. We had very recently acquired back instore the Optimus range of stoves.


As always I studied the form, weight, BTU output, burn time, pack ability etc and set my sights on the Optimus Crux. I really like this stove - at freezing temperatures I can boil 300ml of water in just over a minute, it has a great adjusting arm for when you want to reduce heat for simmering, and best of all the burner head folds flat and fits in the dish under a gas canister. The small neoprene bag that comes with the stove is a great little gizmo. You place the folded stove in the split sleeve at the base of the bag, then put your gas canister in and tie off with a funky bungee cord system. This then fits nicely into the GSI Hallulite Minimilist with no rattling.


To conclude, a brilliantly designed and engineered stove for those who want to travel light.



---
Primus Foot Rest

Recommended to increase stability for stoves that screw directly onto the LP gas cartridge, especially when using large pots or cooking on uneven surfaces. The foot rest attaches to the base of the
cartridge.

"Mike says "

This little gadget is a must for cooking with direct screw in gas stoves. It adds stability to the whole cooking system and raises the gas canister off frozen ground in winter.








---
Frontier Explorer Stove

Attractive and easy to assemble, the Frontier is ideal for family camping trips, people with motor homes, or for use in conjunction with, or even instead of, barbecues at social gatherings.





Classically styled, the Frontier also packs down neatly after use, and can be carried by hand. This lightweight portability ensures that the Frontier is the ultimate cooking facility for any outdoor scenario. There is even a chimney attachment that will boil your water for you.

The Frontier can also be used inside as a more permanent room heater/cooker. With correct installation the Frontier will provide all the heat for your room. Its classic look will ensure you have a fully functioning heater/cooker that will add a touch of nostalgia to any room.

Overall Height: 2410mm

Overall Length: 835mm

Overall Width: 550mm

Flue Diameter: 60mm

Flue Length: 410mm x 5

Firebox Door: 155mm

Internal Opening: 140mm

"Mike says "

I have recently purchased a Frontier Stove and used it extensively while out filming for a week in the woods. Initially I had my doubts, with the legs being too long, thus not warming the lower parts of the tent, and the capacity and design of the stove box being quite small. After some thought I lowered the stove by digging in the legs (I was using a 12-14 Helsport Varanger Lavvu with no groundsheet) which solved the heating of the lower parts of the tent. I found that when the stove is cold you have to light it and fill it with thumb-thick kindling to get all parts hot, then once established move on to bigger pieces of firewood, which gives out plenty of heat.

I also found that the stove door has to be open on the first nick the majority of the time to let in plenty of oxygen to keep the burn going - but when it is time for bed, closing the door slowed the burn down giving a little heat through the night. If you plan your burn and you know the combustion qualities of various woods, I found the stove was still lit in the morning.

In the woodland where I was camping the prominent firewood is Spruce. I found that a spark arrester was critical for the stove to reduce sparks and that I hadto clean out the stove pipe of resin on a daily basis, which is normal.

The other problem was to protect the tent from the stove pipe. Frontier do not produce a cowl that fits around the stove pipe and a quick phone call to them turned out that they have no intention of making one. Another quick phone call to a mate and Tamarack now have a cowl that fits not only the Frontier stove, but is compatible with most tents designed to take a wood burning stove where the stove pipe fits through the top hat.

The removeable plate on top of the stove is really handy for flash frying, and a 16cm Zebra pot fits snugly if hot water is needed quickly.

In essence, a really good product and a great price.


---
Frontier Water Heater


The Frontier Stove Water Heater holds 3 litres of water. It wraps around the bottom flue section and sits on top of the Frontier Stove. Once the water has boiled, the water heater can be turned around to 'hang' from the bottom flue.

Made from brushed Stainless Steel.

Size: 210 x 140 x 320 mm

Weight: 1.6 kg

"Mike says"

A complete must if you already have or are about to purchase a Frontier Stove. To get the water hot from cold you will need to light the stove and fill it with thumb-thick kindling and keep the burn hot. Once at the boil, just top up when you use hot water and ensure the water heater does not boil dry. A smashing piece of kit for regular hot water in a main fixed camp. Don't bother turning the heater around when it is boiled, too risky.


---
Frontier Heat Proof Mat


An absolute essential accessory if you are planning to install your Frontier Stove into your canvas tent. This will prevent any stray embers burning through your ground sheet.

The heatmat is made from fibreglass coated silicon rubber, with extra sewn in patches for the 'feet' of the Frontier to sit on.

Size: 1200 mm x 800 mm

Weight: 0.6 kg

Can be used with Helsport Stoves also

"Mike says "

A complete must for those tents that do not have a removeable ground sheet, catching any coals that might accidentally fall from the stove door or generally protecting the groundsheet from the heat of the stove. Smashing piece of gear.


---
Frontier Spark Arrester


The spark arrestor has a mid range wire mesh to catch debris. Made from mild steel with dimensions of 95 x 60 x 214 mm and weighing 0.3 kg. There are 3 eyelets at the base of the spark arrestor and guy ropes can be attached if necessary to stabilise it in high winds. The spark arrestor can also be used to 'plug' the flashing kit when the Frontier is not in use.

"Mike says "

A spark arrester is very important in breaking up and distributing sparks that may come up the stove pipe. Always use one when using any stove, especially when burning softwood or sweet chestnut.




---
Helsport Lavvu Stove


The Lavvu wood burning stove is constructed of heavy duty stainless steel and is designed for the Helsport Lavvu series and the Valhall. It is also compatible with other brands such as TentTipi. There are sufficient stove pipe sections to fit a tent of the same size as the Helsport Varanger 12-14. All the stove pipe sections fit inside the stove box for transport, the legs fold in to be used as a carrying handle when emptying the ash and has a total weight of 13 kg. Supplied with heavy duty storage bag.

From experience and feedback the stove can burn any wood, the drier the better, but care should be taken if choosing only to burn Pine as the extreme heat generated can transfer to hot resin leaving the spark arrester and potentially damaging the tent. We have used pine in moderation over the years in small quantities to get the fire going and this has caused no issues.

"Mike says "

If you want to winter camp a heat source is really great for keeping you warm, drying out kit and cooking on. The Helsport Lavvu Stove hits the mark. The stove when packed with kindling and with a good source of dry hardwood makes those cold winter days and nights a joy to be out camping. In recent months I throw on Peat just before bedtime and shut the stove down, this keeps the tent warm overnight. In the morning, i just re kindle the stove and you are away again. The stove is also great for boiling water and cooking stews etc on. The new model is constructed of stainless steel and you get enough stove pipe to fit the largest Lavvu in the Helsport range, along with a cowl extender to protect the tent parts. The stove also fits in the Helsport Valhall. Toasty warm camping through the winter months, well worth it.









---


GSI Outdoors Ultra Light Java Drip
Drip coffee maker

" Mike says "

Great little addition to the cookset - use it with fresh ground coffee, leaf tea, or Larch, Spruce or any other wild tea - and it only weighs 12 g.

---
Tatonka Tea Pot 1 litre
A stainless steel kettle that has folding handles and a tea and coffee filter.

" Mike says "

Great piece of kit if you like loose tea and real coffee, as I do. It also has the added bonus of fitting inside the Trangia 25-5.


A good all round Billy can, made of high quality stainless steel


" Mike says"

Its great to see the Zebra range back in the store. I have been a lover of these Billy's for years. Their intention is to be used as a lunch pale. You put your food you want to keep cool in the bottom of the Billy, then place on the internal tray and add ice. Put on the lid and raise the bale arm to lock the lid in place. I have never tried this, but they are great when full of boiling hot coffee, soup or stew - and can even be arranged to be used as a small oven for baking Bannock. They are great used as a gathering pale for nuts and berries, and can even be used as a digging tool. They work well on gas and multi fuel stoves, as well as being used over or around a campfire.

Everyone should have a Zebra Billy.


Lodge Logic Cast Iron
Various cast iron pots.

Lodge Logic began making cookware during the first presidential term of William McKinley. Amazingly, some of the first cast iron skillets, griddles and dutch ovens made over 100 years ago are still being put to good use.

" Mike says "

Cast iron pots are great for a fixed camp and for feeding lots of people. You can roast, bake and fry. Ensure that they are well seasoned before use.


---



Lodge Logic Round Skillet



The Lodge Logic 10 ¼-inch Skillet was rated as one of the two dozen essential tools in the home and kitchen.
With assist handles for easier han
dling
.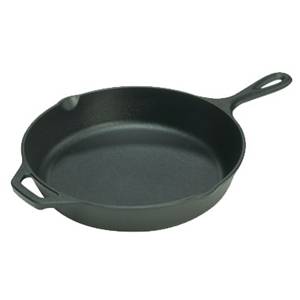 Smaller Doesn't Mean Less Performance - Scrambled eggs, cornbread or seared chicken breasts are natural
selections for these classic skillets.


"Mike says"

I am a big lover of cast iron pots and pans in main fixed camps. I have recently purchased the 20cm skillet for frying Bannock, bacon, eggs etc. Takes a little time to warm up, but then the radiated heat from the pan can be controlled using the heat retention of cast iron. It also fit's onto the Trangia 25 series. As with all Lodge Logic cast iron, the skillet comes pre seasoned.
---
Lodge Logic Lid Stand
Lodge's versatile lid stand can be used in two ways - on one side it is a stand for your Dutch oven lid; flip the stand over and the inverted lid can be used as a griddle. Made of heavy-duty steel with high temperature black finish.


"Mike says"

Great piece of kit for a fixed main camp. Use as described above or sometimes I place the stand in or on the edge of the fire, place your pot or skillet on, then you can control the heat with various types and sizes of wood. A small stick fire of willow or spruce will get the cast iron to frying stage quickly, or chip some oak up with an axe for a long slow burn for stews etc.
---

Coleman 2 Ring Burner

has integral windshield and packs into its own carry case. Uses Coleman or unleaded fuel.
"Mike says "

Great stove for a vehicle and cooking for large groups.


---
Primus Express Spider Stove

The Express Spider is one of the lightest stoves available. Extremely stable and durable hose mounted stove.


" Mike say's"

I have been using the Express Spider in the mountains over winter and am very impressed with the heat output and the stability on uneven ground. The stove fits into a 1 litre Billy can along with the gas canister, making the cook set really light and easy to use. Good piece of kit.


Esbit Titanium Folding Spoon
Foldable ultra-light Titanium spoon that weighs 18 grams.

" Mike says "

Great piece of kit..