---
---
Coleman Northstar

Has a 220 watt output. It uses one mantle and runs on unleaded fuel on full power for approx 14 hours

.

Mike says...
"

The Northstar is a great companion around camp if you are vehicle based. It takes a little maintenance, but you must ensure you carry spare mantles and transport it in a carry case

. "


COLEMAN NORTHSTAR






---
Feuerhand Lantern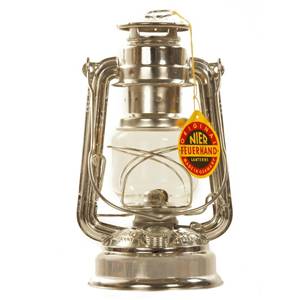 The Original Feuerhand lantern, made in Germany.

This solid and high grade lamp, gives you light for about 20 hours with a full tank.

Mike says...
" Great easy to use lantern for around camp or the BBQ area. I use Paraffin as a fuel - it is easy to fill and light. The lantern gives off enough light so you can carry it around camp and gives any camping trip that old-time feel. If you want a brighter light, choose a Coleman. "


FEUERHAND LANTERN




---
UCO Candlelier Triple Candle Lantern


3 separate 9 hour candles give plenty of light and heat.

Mike says...
" Great piece of kit for the home or base camp, gives enough light to carve by in the evenings and will boil a mug of water. Always use with the Candlelier storage case. "


UCO CANDLELIER TRIPLE CANDLE LANTERN







---
UCO 9 Hour Candle


Pack of 3, 9 hour candles.

Mike says...
" I carry one of these candles when I fancy a night in a natural shelter. The flickering glow from the candle gives that warm and inviting feeling in the shelter. "


UCO 9 HOUR CANDLE





---
Petzl Pixa 3 Head Lamp

The brand new Pixa 3 is a lightweight Petzl head torch that provides 3 versatile beam patterns from two high power LEDs allowing a flood, mixed range and focused beam.
The Pixa3 is a great addition to the Petzl hands free lighting range and is exceptionally durable.

Mike says...
" A close contender to my favourite Myo RXP. I use the Pixa 3 when training and in fixed camps. It is an easy to use, robust waterproof head torch for those tough days out. Brilliant. "


PETZL PIXA 3 HEAD LAMP




---
Petzl Tactikka + RGB


Its mixed beam (wide base with focused component) is adapted for proximity lighting and movement. Its three lighting modes (red, green and blue) enable stealth and night vision preservation when necessary.

CONSTANT LIGHTING technology: brightness does not decrease gradually as the batteries are drained.

Mike says...
" WOW, just what I have been waiting for from Petzl for years. The constant lighting technology is brilliant and really refreshing, IPX 4 which gives great weather resistance, light weight at 85g, 120 lumens boosted to140 with the boost button gives great illumination at close and middle distance with the added advantage of RGB ( Red, Green and Blue ) lighting to conserve night vision and prevent blinding others in your party. Thank you Petzl, you have nailed it. "


PETZL TACTIKKA + RGB


---
Silva Compass Expedition 54


The compass we recommend is the Silva Type 54 sighting compass.

Mike says...
" When I am out, navigation is of paramount importance. The 54 gives me accurate bearings using the prism sighting within the compass housing. I have used one of these for nearly 30 years, and always carry a spare in my kit. "


SILVA COMPASS EXPEDITION 54





---
Suunto MC-2 Compass

The advanced navigation compass.
When venturing out into new territory, this sighting compass offers precision navigation with a variety of carefully engineered and dependable features for challenging conditions.

Mike says...
"

A very well thought out and manufactured precision instrument that is robust enough to rattle around in your pack until needed. The sighting element after some practice can make navigation especially in poor visibility very accurate. I always keep my compasses in a compass case to ensure they don't get scratched and to reduce any damage

. "


SUUNTO MC-2 COMPASS



---
Suunto Core All Black


The award-winning Suunto Core packs easy to use outdoor functionalities in a robust construction.

Combining altimeter, barometer and a compass with weather information, the Core provides the essential features for adventures in the great outdoors. Designed to bring out the explorer in you.

Mike says...
"

This wrist top computer ( in other words a watch ) is proving to be a real bonus while out, especially in the mountains. The compass element is a great back up and a quick check of a bearing, the barometer is a bonus on predicting in coming weather systems and the altimeter is a great tool for checking your position and plotting on the map using contours.




Not only this it is very light considering the size and doesn't get in the way or hinder movement when using cutting tools, especially an axe. Great stuff. "


SUUNTO CORE ALL BLACK



---
Navigation Romer Card


Coupled with the compass Romer Card is an essential piece of equipment.

Mike says...
" Although the 54 has a romer built into the base plate, you can take and issue more accurate grid references with a romer card - always carry a spare. "


NAVIGATION ROMER CARD





---
Tally Counter


The tally counter is a major part or our navigation equipment.

Mike says...
" The Tally Counter is used for counting our paces while walking on a bearing. An important tool if you forget the amount of paces to a determined point. "


TALLY COUNTER






---
Garmin eTrex 10


eTrex 10 has an enhanced 2.2" monochrome display that's easy to read in any lighting situation. Both durable and waterproof, eTrex 10 is built to withstand the elements. It has an easy-to-use interface which means you'll spend more time enjoying the outdoors and less time searching for information. eTrex 10 features the legendary toughness that's built to withstand the elements. Dust, dirt, humidity, water — none are a match for this navigator.

Mike says...
" It's nice to see a bit of Garmin back with us, in my mind the only GPS to own. I have had an eTrex for years and it quicker and more accurate now than when I bought it. Remember, a GPS is no substitute for good map and compass navigation. "


GARMIN ETREX 10




---
Rite In The Rain Pocket Note Book


These are the truly go-anywhere, anytime, in any weather notebooks. The pocket notebooks are conveniently sized to take with you on your outings.

Mike says...
" Rite-in-the-rain have revolutionised outdoor notation. Stowed in the Tas Tiger map case I have a note book for a journal and another for general notes and navigation. Use a pencil (HB), then once you have used your notes, rub them out and re-use the paper. "


RITE IN THE RAIN POCKET NOTE BOOK