Coleman Northstar
Has a 220 watt output. It uses one mantle and runs on unleaded fuel on full power for approx 14 hours.

" Mike says "

The Northstar is a great companion around camp if you are vehicle based. It takes a little maintenance, but you must ensure you carry spare mantles and transport it in a carry case.


Coleman Northstar
---
Feuerhand Lantern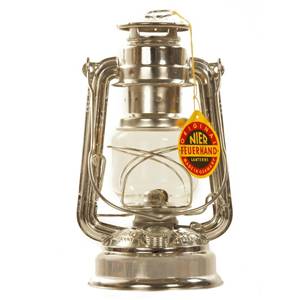 The Original Feuerhand lantern, made in Germany.

This solid and high grade lamp, gives you light for about 20 hours with a full tank.

Made of high-grade 0.3mm sheet steel and hardened wire, completely tin-plated, it includes a long top carry bale, self-venting hood and bottom fuel regulator. The glass globe is made of legendary Schott-Suprax glass!
The bottom reservoir with 0.34litre capacity, is easily filled and will burn kerosene/paraffin or any other cool-burning lantern fuel for up to 20 hours, with optimum brightness with no flickering or sooting. No sharp edges and no leaking!
Details: Height : 26cm
Tank: 0.34 litres
Cross section dimension: Ř 13 cm


"Mike says"

Great easy to use lantern for around camp or the BBQ area. I use Paraffin as a fuel - it is easy to fill and light. The lantern gives off enough light so you can carry it around camp and gives any camping trip that old-time feel. If you want a brighter light, choose a Coleman.
---

UCO 9 hour candle
" Mike says "

I carry one of these candles when I fancy a night in a natural shelter. The flickering glow from the candle gives that warm and inviting feeling in the shelter.



---
Uco Candlelier Triple Candle lantern
3 separate 9 hour candles give plenty of light and heat.

" Mike say's"

Great piece of kit for the home or base camp, gives enough light to carve by in the evenings and will boil a mug of water. Always use with the Candelier storage case.


---
Petzl Myo RXP
The MYO RXP is the first Petzl headlamp that is regulated and programmable, allowing the user to choose the order of lighting levels and to precisely adapt light
output. To do this there are three lighting modes, each of which the user can select the power from among ten possible levels, from 8 to 140 lumens. This feature allows the lamp to be programmed for the type of activity and the length of use. Maximum power lighting would be suited for a short night run, for example; less powerful lighting would help preserve battery life and would therefore be ideal for a multi-day trek.
This headlamp has Boost mode (160 lumens) and a flashing mode that can be programmed. It is compatible with lithium batteries to optimize performance, even at low temperatures. The wide angle lens offers the option of switching instantly from a focused beam to a wide beam when necessary.
Regulated power levels:- constant lighting power - automatically switches to reserve power mode when batteries are almost discharged
Lighting levels can be programmed to favour light intensity or battery life, depending on the activity:- three lighting levels can be chosen (choose from among ten levels between 8-140 lumens)
- choice of the order of activation of the three lighting modes
- flashing mode frequency can be programmed (slow, fast, SOS signal)
- user-friendly programming in three steps, using the two buttons
- high-output lighting:- 160 lumens (Boost mode)
- 8 to140 lumens (programmable levels)
- shines up to 97 meters (Boost mode)
- compatible with lithium batteries:- lighter than alkaline batteries and better performance at lower temperatures
- versatile and adaptable to a variety of situations:
- wide angle lens allows to quickly switch from flood beam proximity lighting to focused long-distance lighting in a single movement
- boost mode increases power if needed, while optimising energy consumption
- weight 175 g (including batteries)
- lightbody is tiltable to direct the light beam where needed
- perfect for endurance-oriented activities
- 95 hour battery life with program level no.1
- reliable and durable:- battery charge indicator light: warns when the batteries are 70 % and 90 % discharged
- switches are protected from accidental operation when light body is in upright position
- bulb does not need to be replaced
- water resistant for all weather use
- comfortable and stable
- compact design
-vadjustable elastic headband
- top strap included (not attached) for increased stability if needed
- operates on three alkaline AA/ LR6 alkaline batteries (included)
- compatible with lithium batteries
- degree of protection: IP X4 (water-resistant)
- 3-year guarantee
"Mike says "
Just noticed that the Petzl Myo RXP wasn't on the recommended section, how stupid am I. For me this is the only torch I would take on a long multiday trip. Comfy to wear, easy to use, albeit the on off switch is a little tricky some times, and gives great illumination at 140 lumens. When the ground is flat I tend to use the diffuser to distribute the light, but on very dark nights with no moon or low cloud on tricky terrain the spot gives you plenty of light to ensure good foot placement. The Petzl Nao I have put into my vehicle as I can charge the spare battery from the 12v cigar lighter..


---
PetzlPixa 3 Head Lamp
The brandnew Pixa 3 is a lightweight Petzl head torch that provides 3 versatile beampatterns from two high power LEDs allowing a flood, mixed range and focusedbeam.
The Pixa3 is a great addition to the Petzl hands free lighting range and isexceptionally durable. It has been approved for Atex zone 2 and 22 andalso has a rating of IPX7, meaning it can withstand a wet cave environment andcan even be submerged in water. It isresistant to drops and falls and will resist being crushed up to 80kg. The Pixa 3 torch has a beam length of 55metres and produces 50 lumens of brightness using only 2 AA batteries. Thisdurable head torch has a detachable headband for easy washing and can be usedas a stand alone light.
"Mike says "
A closecontender for my favourite Myo RXP. I use the Pixa 3 when training and in fixedcamps. It is an easy to use, robust waterproof head torch for those toughs daysout. Brilliant.


---
This headlamp is equipped with a white high-output LED and a red LED. The white LED delivers 80 lumens in maximum mode and lights up to 68 meters. In economic mode, it can reach a burn-time of 190 hours. The red LED provides back-up lighting useful for preserving night vision, or strobe lighting for increased safety, for example in an urban setting.
Versatile and with multi-beam:
- two white lighting levels plus a strobe mode
- two red lighting modes: maximum and strobe
- choose between wide or focused beams with the wide angle lens
- one white high-output LED
- 80 lumens (maximum mode)
- shines up to 68 meters (maximum mode)
- 190 hr light duration on economic mode
- simple push-button switch
- battery pack is easy to open
- ADAPT system is quick to mount
Compact, light and comfortable:
- single compartment contains LEDs and batteries
Beam pattern: wide or focused
Max. light quantity: 80 lumens
Max. lighting distance: 68 m
Battery type (included): AAA/LR03
Battery compatibility: alkaline, lithium, rechargeable Ni-MH, rechargeable Ni-Cd
Watertightness: IP X4 (water resistant)
This head torch is a no nonsense piece of kit that has been through the mill several times over the years. Lightweight with a good burn time and at 80 lumens does everything I need it to for the job in hand.



---
Nite Ize Moonlit LED Area Light


The Nite Ize MoonLit can be used and reused in countless configurations - it's an easy, handy way to shine ambient light from almost any angle. We've connected our famous SpotLit to a bendable, durable 18" Gear Tie, using a slimline stainless steel crimp connection. The long-lasting LED bulb has two functions - steady glow and continuous flash - and emits light bright enough for reading fine print. Wind the MoonLit around tree limbs, tent poles, bed posts, or make a loop at one end and hang it from a hook for steady ambient overhead light. Set in flash mode and wrapped around bicycle handlebars, backpack straps, or even your arm, the MoonLit keeps you safely visible in the dark. Water-resistant, long-life, replaceable battery included.

"Mike says"

Great little piece of kit around camp. I hang it in my tent to read by and wrap it around my chair arm when I am carving, saving power in my head torch. Top draw.


---
Navigation
Compass
-
Silva Expedition 54


The compass we recommend is the Silva Type 54 sighting compass.


" Mike says "

When I am out, navigation is of paramount importance. The 54 gives me accurate bearings using the prism sighting within the compass housing. I have used one of these for nearly 30 years, and always carry a spare in my kit.


Romer Card
Coupled with the compass Romer Card is an essential piece of equipment.

" Mike says "

Although the 54 has a romer built into the base plate, you can take and issue more accurate grid references with a romer card - always carry a spare.


---
Tally Counter
The tally counter is a major part or our navigation equipment.

" Mike says "

The Tally Counter is used for counting our paces while walking on a bearing. An important tool if you forget the amount of paces to a determined point.


---
Silva Mechanical Map Measurer
The Silva Map measurer is an analog navigation instrument with a pointer. Choose one of the eight map scales between 1:15.000 and 1:750.000 according to your map, and it measures your planned route. Given a known speed you can then also calculate how long it will take to cover the rest of the trip.
"Mike says"
I don't know about you, but I always have my head stuck in a map looking for that cracking wild trail and the mega important wild camp. As part of my routine I always write a journal at the end of each day, plotting grid references of important features, general comments on the trip and anything that comes to mind. I also like to have a good idea of the distance I have travelled and will be travelling the next day.
Silva's Mechanical Map Measurer is a great way of measuring distance on the map. I know there is a multitude of fancy electronic devices out there that can give me more accurate readings, tell me where I am within a couple of meters, point me in the right direction etc. - but it is nice to have that little bit of old school kicking about just in case those batteries fail. Marvellous.


---
Garmin eTrex 10
We improved the user interface and added a worldwide basemap, paperless geocaching and support for spine-mounting accessories.
eTrex 10 has an enhanced 2.2" monochrome display that's easy to read in any lighting situation. Both durable and waterproof, eTrex 10 is built to withstand the elements. It has an easy-to-use interface which means you'll spend more time enjoying the outdoors and less time searching for information. eTrex 10 features the legendary toughness that's built to withstand the elements. Dust, dirt, humidity, water — none are a match for this navigator.
eTrex 10 supports geocaching GPX files for transferring geocaches. By going paperless, you're not only helping the environment but also improving efficiency.
eTrex 10 stores and displays key information, including location, terrain, difficulty, hints and descriptions, which means no more manually entering coordinates and paper printouts. Simply upload the GPX file to your eTrex 10 and start hunting for caches.
With its high-sensitivity, WAAS-enabled GPS receiver and HotFix® satellite prediction, eTrex 10 locates your position quickly and precisely and maintains its GPS location even in heavy cover and deep canyons. Whether you're in deep woods or just near tall buildings and trees, you can count on eTrex 10 to help you find your way when you need it the most.
eTrex devices are the first-ever consumer-grade receivers that can track both GPS and GLONASS satellites simultaneously. When using GLONASS satellites, the time it takes for the receiver to "lock on" to a position is (on average) approximately 20 percent faster than using GPS. And when using both GPS and GLONASS, the receiver has the ability to lock on to 24 more satellites than using GPS alone.
Weight: 141.7 g

Size: 5.4 cm x 10.3 cm x 3.3 cm
Battery Life: 25 Hours
" Mike says "
It's nice to see a bit of Garmin back with us, in my mind the only GPS to own. I have had an eTrex for years and it quicker and more accurate now than when I bought it. Remember, a GPS is no substitute for good map and compass navigation.


---
Note Paper
Waterproof note paper

"Mike says "

Rite-in-the-rain have revolutionised outdoor notation. Stowed in the Tas Tiger map case I have a note book for a journal and another for general notes and navigation. Use a pencil (HB), then once you have used your notes, rub them out and re-use the paper.